Artist Workshop in Tuscany, Italy
Instructor: Tony van Hasselt, A.W.S.
Workshop: September 28 to October 5, 2018 in Pienza
Pre-workshop: September 25 to 28, 2018 in Cortona
Art Workshop in Tuscany, Italy – 2018
Join Tony van Hasselt, A.W.S., for an exciting workshop in Italy this autumn as he leads you through some of the loveliest parts of Tuscany. Explore and paint ancient hilltop villages, gently undulating vineyards and farmland as he shares his experience and love for the watercolor medium.
Your adventure may start with an optional three nights in Cortona, the lovely town made famous in the book and film "Under the Tuscan Sun." Enjoy a few days of tranquility while acclimating to the Italian pace of life. With sketchbook and camera in hand, explore Cortona's many interesting piazzas and back alleys.
The actual workshop week gets underway as we head to Pienza in the Val d'Orcia, near Siena. Pienza was rebuilt as an "ideal town" in the 15th century under the patronage of Pope Pius II. To this day, it is difficult to tell whether the town itself is more pleasing, or its lovely views across the Tuscan countryside.
Tony plans to hold daily demonstrations and assist individually while we're also exploring nearby picturesque villages such as Montepulciano, San Quirico d'Orcia and Buonconvento. A longer excursion is planned for a visit to Siena. Of course, when not painting, we'll partake in wine tasting and sampling the Italian cuisine. Feeling energetic? Enjoy a walk or bike ride on a peaceful back road.
Other activities:
Non-painting partners and others are welcome to join our adventure enjoying the many cultural activities and additional excursions planned.
Dates:
Workshop: September 28 to October 5, 2018 in Pienza
Pre-workshop: September 25 to 28, 2018 in Cortona
Cost:
Workshop: $2900
Pre-workshop in Cortona: $450
Maximum group size: 12

Workshop History:
Read and view photos from a previous Tuscan workshop
 
Your Workshop Instructor:
Tony van Hasselt, A.W.S.
This native Dutchman has been elected to signature membership of the American Watercolor Society and for decades, organized and taught watercolor workshops throughout the US, Mexico and abroad. He has traveled and painted widely in Italy, France and throughout the continent.
Tony is a plein air painter who enjoys sharing his experience with students. His aim is to teach in a sequential manner, building on what has already been presented. Although drawing ability comes first, the focus is on the art of picture making, composition and design. These are skills applicable in any medium. He also encourages sketchbook journaling to create memories of an area, often using such sketches as preparation for larger efforts.
Tony has written and co-authored three books on watercolor and produced several how-to DVD presentations.
Read more about Tony van Hasselt:

A sampling of Tony van Hasselt's work in Italy: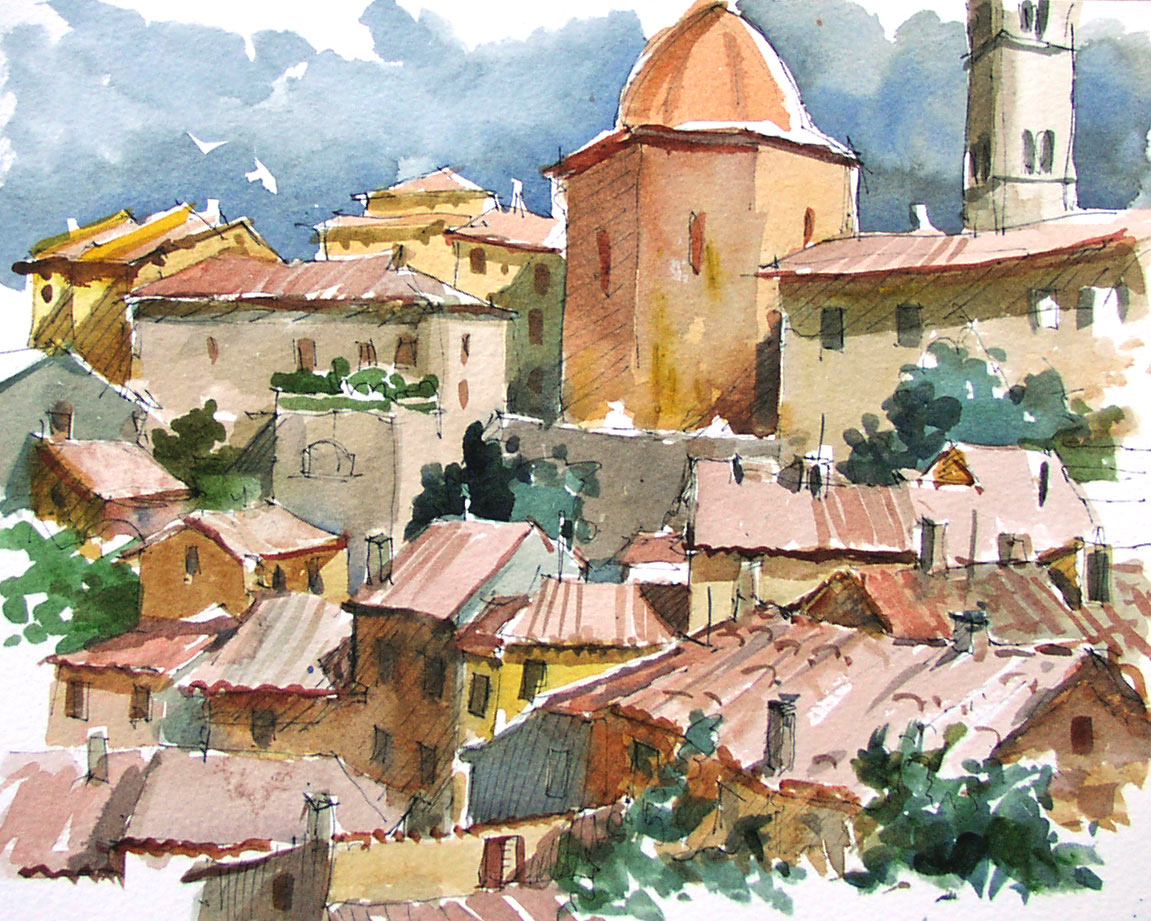 Demonstrations will be in watercolor but students using acrylics are welcome. Studio painters might consider this workshop as an introduction to working on location, while finishing touches can be added later in the comfort of your studio.
Weather permitting, the daily schedule starts with a plein air lecture-demonstration. After some on-location advice, students are free to select a subject and paint on their own, while Tony assists on an individual basis. Tony considers himself more of a coach than an instructor. After all, there are many ways to approach a subject and the enjoyment is in exploring your own style and direction.
Cortona Pre-workshop Visit
September 25 to 28, 2018 in Cortona
To kick off our workshop in Tuscany, there is an optional, 3-night stay in the beautiful, hill-top town of Cortona. Cortona, of course, is the setting for Under the Tuscan Sun, written by Frances Mayes' and later made into a successful film of the same name.
This pre-workshop stay enables you to explore another part of Tuscany, acclimate yourself to the pace of Italian life, perhaps brush up on your Italian, and overcome your jetlag in style before the formal workshop begins.
While there will be no formal instruction during this portion of the trip, you will be free to paint or sketch, as you like, and instructor Tony van Hasselt will be in Cortona to offer informal advice and guidance.
Also of note is Fra Angelico's Annunciation and other works at the Diocesan Museum in Cortona.
The pre-workshop visit to Cortona is organized as follows:
We will meet you at the airport in Florence and see you to your hotel that we have booked for you in Cortona.
Tour leaders will be available during this period in case you should need assistance, but generally you will have unstructured time to explore the town or do what you like.
On Friday, when the formal portion of the workshop begins, a van will pick you up at the hotel to transport you to Pienza.
Pienza Workshop
September 28 to October 5, 2018
Here is a day-by-day breakdown of the workshop, based in Pienza:
Friday
Workshop participants who have not participated in the pre-workshop visit to Cortona will be met at the Florence Airport. Cortona-visitors will be picked up from their hotel and everyone will proceed to Pienza where we'll check into our workshop hotel. You will have the afternoon to settle in. A short walking tour of the town will be followed by dinner in a local restaurant and workshop orientation provided by the instructor and your trip leaders.
Saturday
After breakfast, taken at the hotel, we will paint plein air under the guidance of your instructor at locations around Pienza. You'll have the choice of painting ancient buildings, courtyards or piazzas, or painting the breath-taking views outward from this hill town.
Sunday
Plein air painting at locations in and around Pienza in the morning. In the late afternoon, following siesta, we will travel to Buonconvento, where you can paint and explore, followed by dinner.
Monday
Plein air painting at locations in and around Pienza. Optional wine tasting in late afternoon in Montalcino, home to famous Brunello wine.
Tuesday
Day excursion to Siena with a guided tour of historic city center and cathedral. You will have time to sightsee, sketch and paint – or shop.
Wednesday
Plein air painting at locations in and around Pienza. Evening visit and dinner in San Quirco d'Orcia.
Thursday
Visit to open-air market in Montepulciano, with time to paint and explore in this famous Tuscan town. Evening art show and group critique, with instructor. Farewell dinner.
Friday
Morning departure to Florence airport.
Trip Details
Trip costs:
Cost of the workshop is $2,900
Supplement for single occupancy for Workshop: $375
Supplement for single occupancy for Pre-workshop: $100
Deposit required to reserve a place on the tour: $350
(Places in the workshop are limited to 12 and are allocated on a first-come, first-served basis. We recommend that you reserve your place early, as Tuscany is a popular location and this workshop is expected to sell out.)
 
Optional pre-workshop stay in Cortona:
$450 based on double occupancy. This portion of the trip is hotel-only. Breakfast is included at the hotel, but other meals and activities are not included.
 
What's included in the cost of the trip:
Pre-workshop optional visit to Cortona:
Pickup at Florence airport
3 nights lodging in Cortona
Breakfast each day
Workshop in Pienza:
Pickup at Florence airport or Cortona
Art instruction by instructor Tony van Hasselt
7 nights lodging in Pienza
Local transportation by van and driver
Day excursions to explore Tuscan villages
Optional excursions for non-painters

What's not included:
Airfare
Lunches
Wine tasting
Admission to museums and local sites
Art supplies

Payment schedule
$350 non-refundable deposit
$1275 second installment (Due June 1, 2018)
$1275 final installment (Due August 1, 2018)
Pre-workshop add-on in Cortona: $450
Single occupancy supplement: $375

Group size:
Pre-workshop lodging, Cortona:
Tour participants will stay in a 3-star hotel in an historic building near the center of the old portion of Cortona. The hotel provides easy access to all parts of the town, but it is tucked away on a quiet side street.
Workshop lodging, Pienza:
You will stay in a 3-star hotel located across the street from Pienza's historic center and a few blocks from Pienza's cathedral and central square. There is a swimming pool, so bring your suit, and the hotel has a special arrangement for battery-powered bicycles from a nearby bike shop.
 
Meals:
Traditional Italian breakfasts to be taken at your hotels in both Cortona and Pienza.
In Pienza the group will take dinner at restaurants in or near Pienza.
 
Optional day trips:
Several optional excursions will be offered during the workshop for those who might like to take a day off painting, or for non-painters who may wish to come on this trip.
 
End of trip add-ons (optional):
At the end of the trip, participants may opt for additional nights in Tuscany or other parts of Italy. Trains can easily take you to Rome, Milan or other points. One can often fly into Florence and out of another city for little extra cost. These trip extensions are up to trip participants to organize, but Travel Fever Tours can make recommendations on how to arrive at your desired destination.